According to the recent NEBOSH Jobs Barometer, holding a professional qualification makes a considerable difference to the salary Health and Safety Managers can expect to achieve.
The annual study by NEBOSH analyses advertised safety, health and environmental employment opportunities in the UK during January and February 2016, with the latest results revealing the average top end salary for those required to have a NEBOSH Diploma qualification was £50,000 - over 16% higher than the £43,000 offered when a NEBOSH Diploma wasn't specified.
NEBOSH qualifications are widely considered to be the hallmark of a good health and safety professional not just in the UK, but also internationally. The latest study showed that overall:
83% of job advertisements demanded candidates hold a NEBOSH qualification
54% of job advertisements specified the NEBOSH Diploma
45% of vacancies called for NEBOSH Certificate level qualifications, up by 7% in 2015
93% of positions asked for either some form of NEBOSH qualification and/or Membership of IOSH.
Salaries by sector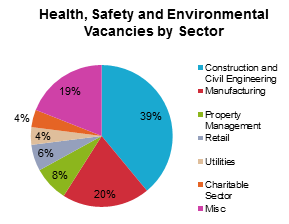 The NEBOSH research found that the construction and civil engineering sector continues to dominate safety, health and environmental (SHE) positions, however, the average high-end salary actually decreased to £47,000, down from £50K in 2015.
The second biggest industry, manufacturing, continues to show strong growth and development within the UK, with the number of SHE job opportunities advertised within this sector growing from 13% to 20% and average top-end salaries being £45,000, up from £38,000 in 2015.
The retail sector showed the highest average top-end salary this year at £55,000, followed closely by property management at £48,000. These high salaries on offer are a clear illustration of the high standards expected from senior health and safety professionals.
NEBOSH Chief Executive Teresa Budworth commented:
"Once again we are seeing employers demanding professional qualifications and a clear willingness to reward those who value their continuing professional development with better salaries"
International Sales Manager Joe Large also added:
"NEBOSH qualifications are the benchmark of any Health and Safety professional due to the high level of knowledge they provide. The results from the Jobs Barometer not only highlights the level of expertise employers expect in the modern workplace, but the rewards they are willing to give to those who reach this higher level."
Read the full Jobs Barometer 2016 study on the NEBOSH website here.
Interested in gaining a NEBOSH qualification? View our complete list of NEBOSH courses.