---
IOSH Managing Safely
Online Learning
Do you need to complete a flexible IOSH Managing Safely course?
Study the IOSH Managing Safely course wherever you are with online learning. You can complete the course in your own time, at work or at home at your convenience.
You're not restricted by classroom times and place so online learning is perfect if you cannot take time off work to complete a classroom course.
IOSH Managing Safely Course Key Facts
Duration
IOSH recommend 16-24 hours of study
Modules
8 modules covering risk, accident investigation and reporting
Assessments
1 x short, multiple-choice online test
1 x practical risk assessment activity
---
What is IOSH Managing Safely online?
Our IOSH Managing Safely online course is a fully accredited, basic health and safety course for middle-management. It provides learners with the tools, resources, and support they need to achieve their IOSH Managing Safely certificate.
Hosted on our award-winning LMS and created by our team of cutting-edge learning/graphic designers and industry experts, our IOSH Managing Safely online course makes sure your can learn, communicate and apply your learning with confidence.
---
Who is IOSH Managing Safely online for?
Our enhanced IOSH Manging Safely online course (also known as e-learning) is designed for businesses and individual professionals alike.
Our award-winning LMS supports business productivity by providing IOSH Managing Safely training at-scale, while our multimedia-rich course content empowers learners to tackle modern-day challenges.
Our IOSH Managing Safely course is ideal for those who prefer a visual, practical learning style using gamification, video, audio, animation, and interactive activities. Learners will discover a world of information in our digital hub, develop new skills with interactive activities, and collaborate with others in our learner groups.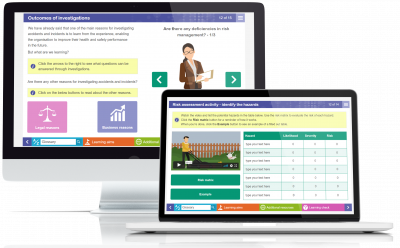 ---
How long is IOSH Managing Safely online?
IOSH Managing Safely requires around 24 hours of studying plus assessment time.
Our IOSH Managing Safely online course provides 6 months of 24/7 access. Fit your training easily around business operations and lifestyle commitment with on the go access - both online and offline - on any device.
---
How is the IOSH Managing Safely online course assessed?
IOSH Managing Safely is assessed with two assessments:
A knowledge-based multiple choice test taken at the end of the course
A skills-based practical risk assessment
Our online course uses intuitive assessment features to help prepare you for your end of course assessments. Learning checks and confidence-based-marking test your understanding at the end of each module, while our exclusive simulation helps you apply your skills in a real-world scenario.
---
What is the IOSH Managing Safely simulation?
Our built-in simulation is designed to challenge your thinking, build motivation, maintain focus and, most importantly, make your learning relevant and relatable to the role of a modern day risk management professional.
Acting as the role of HSE Manager, you'll presented a variety of real-life events and hazards to act upon. There's plenty of information on hand to help inform your decisions including accident logs, inspection reports, policies, and a budget. Remember, the most expensive option isn't always the best one.
At the end, you'll be scored on each decision you make and given feedback on your actions to help you improve.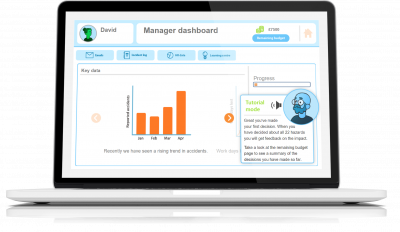 ---
What support do I get with IOSH Managing Safely online?
Our exclusive LinkedIn support groups allows learners to communicate and collaborate with professionals around the world. Participate in group discussions and learn how others are tackling health and safety in their workplace.
As with any Astutis online course, learners will also get support from our tutor, technical, and customer support teams whenever needed.
---
Does the IOSH Managing Safely online course support other LMS systems?
---
Yes! Our award-winning LMS, rapid authoring tools and in-house team enable us to create seamless learner journeys that suit your current programs and processes.
Publish our SCORM compliant content straight to your LMS system for full control over your learners. Or link to our LMS directly from yours, and allow us to take of the rest.
Our reporting and analytics features will give you all the data you need to make smart, actionable decisions. Access essential insight into learner activity, progress, competencies and assessment scores.