April 28th marks International Workers' Memorial Day (IWMD) 2017
A time for reflection and remembrance, it offers us a chance to pay our respects to those killed and injured in the line of their work.
It's a sad fact that each year, more people are killed at work than in wars – and most of these would have been entirely preventable. Most of those who lose their lives don't do so due to a mystery ailment, or tragic accident, instead they die because an employer decided workplace safety just wasn't that high up their list of competing priorities.
HSE data shows that between 2015 and 2016, 144 people died in workplace related accidents in the UK which represents a 7% decrease on the average amount of deaths over the preceding five year period. A further 1.3 million workers in the UK also suffer from a (new) work related illness each year.
Workers' Memorial Day is marked on 28 April every year, all over the world and features events, demonstrations, vigils and a host of other activities to mark the day – both in remembrance and in support of good workplace health and safety practices for now and the future. Both Unions and employers are asked to remember the saying "remember the dead, but fight for the living", showing a clear commitment to eliminating the potential for these tragedies to be repeated.
This year, International Workers' Memorial Day supports the theme 'Good health and safety for all workers, whoever they are', and focuses on the inequalities in occupational health and the role unions and employers play in working towards narrowing this inequalities gap. A particular focus on the hidden and new GIG economies, the risks faced by migrant workers and the issues of gender and class will also be supported in 2017.
The TUC coordinates activities across the country, publishing a comprehensive listing of events and suggestions. A listing of the global activities is available from the Hazards website.
World Day for Safety and Health at Work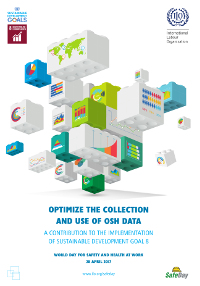 On the same day, the ILO's World Day for Safety and Health at Work will take place. The main focus for this year is the critical need for countries to improve their capacity to collect and utilize reliable occupational safety and health data.
Key to the UN 2030 Agenda for Sustainable Development (adopted on September 25, 2015) is the capacity to collect and utilize reliable OSH data for countries to fulfil their commitment to implement and report on some of the agenda's 17 sustainable development goals and their targets.
You can find out more about the day and how to get involved here.
Find an event near you
See a list of 2017 WMD activities to find out what's happening in your area. If you are organising an event for Workers' Memorial Day and would like it displayed on these pages, you can email through the details to .
What you can do:
Tweet about IWMD using the hashtag #IWMD17
Observe a minute's silence at you place of work
Encourage your colleagues to wear a purple ribbon
Display posters promoting IWMD
Attend a local event commemorating IWMD
https://www.tuc.org.uk/workplace-issues/health-and-safety/workers-memorial-day
http://www.ilo.org/safework/events/safeday/lang--en/index.htm