Another hot and sunny day in Wales on Saturday (let's make the most of it, its not exactly commonplace!!) saw an 8.00 am start for the Astutis boys who signed up for the WAAT4 2014 Brecon Beacons challenge.
After a hard week on the Astutis stand at last week's SHExpo in London, at least two of the team members (Adam and Joe for those of you who saw them) were determined not to let the team down and enthusiastically took up the gauntlet!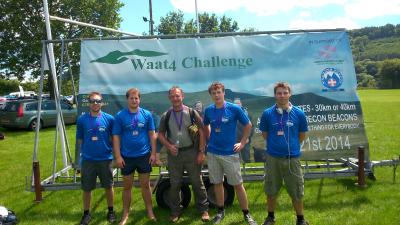 Ensuring they were well hydrated and slathered in suncream (well, they do work for a health and safety firm and were sure to set the standard!) the lads set off bouyed by good morale, a good level of physical fitness and the ambition to succeed - or at least beat Adam's time last year!
Pictured L-R: Pete, Joe, Adam, Ben and Colin with their medals
The ascent of Pen-y-fan to reach checkpoint 2 proved the toughest challenge. This was the highest point on the course and is the highest peak in the southern United Kingdom at 886 Metres and not to be sniffed at on a hot day!
Walking the entire course, with a sprint to the finish to claim their 5hrs 25mins time, the team were able to make up a lot of time by not stopping at any of the check points other than to pick up some water.
Out of a grand total of 57 teams competing in the 30Km event, the 'Astutis Walking Safely' team achieved 8th place and raising much needed funds for a great cause in the Wales Air Ambulance. Well done all!
Adam, who did the challenge last year said:
"I am really proud of the guys as whilst I have previously competed in this event, this was totally new to them. Before we set off, I had set my thoughts on what I hoped for in terms of the team placement and time objectives, which were both comfortably surpassed. Well done Joe, Ben, Pete and Colin ­ Great Effort, Great Fun, Great Result!"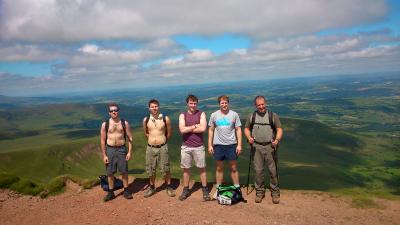 I
n various states of undress (excuse us) the lads are pictured at the top of Pen-y-fan enjoying the breathtaking scenery