NEBOSH International Diploma in South Africa
Accelerate your health and safety career
Now is the time to advance your career. Enhance your risk management and reporting skills. Develop your strategic thinking. Drive change and take on a more significant role in your company.
Whatever your goal - the NEBOSH Diploma will help you get there.
Recognised employers and leading professional body, SAIOSH, the NEBOSH Diploma will give you the advanced knowledge to climb the health and safety ladder!
---
---
NEBOSH Diploma Course Facts
Learning methods
Virtual, Online or Distance
Duration

Virtual: 30 days over 6 split weeks

Online/Distance: NEBOSH recommend 475 hours

Units
ID1: Workplace safety principles,
ID2: Controlling workplace health issues
ID3: Controlling workplace safety issues
Exams
1 practical assignment and 2 case studies
What is the NEBOSH International Diploma?
---
The NEBOSH International Diploma for Occupational Health and Safety Management Professionals (often called the NEBOSH Diploma) is a leading, advanced qualification for professionals outside the UK. It replaced the NEBOSH International Diploma in Occupational Health and Safety in April 2021.
As globalisation increases, governments and employers recognise the need for a consistent high-standard in health and safety for people in all parts of the world.
Based on best practice, the NEBOSH International Diploma provides a recognised body of knowledge that helps improve standards and advance the profession globally.
Why take the NEBOSH International Diploma?
---
The NEBOSH Diploma will give you the skills, knowledge and confidence to:
Protect people from injury in dangerous, complex environments
Super-charge company performance with an effective health and safety strategy
Drive change and lead a safety-focused workforce on a global scale
Apply for senior health and safety jobs across South Africa and beyond
Find out why other professionals just like you took the NEBOSH Diploma in our video here.
Who is the NEBOSH International Diploma for?
---
The NEBOSH Diploma is for ambitious professionals already working in health and safety and looking to take their skills to a strategic level, such as:
Health and Safety Managers, Advisors, or Officers
Compliance Managers
Training Coordinators
Quality, Risk, and Environmental workers
Engineers
Consultants
Directors
The NEBOSH Diploma is designed to help aspiring leaders progress in the industry. By combining specialist risk management knowledge with practical experience and business acumen, you'll have the credentials to climb the health and safety ladder!
If you are unsure whether the NEBOSH International Diploma is a suitable qualification for you at this stage in your career, take a look at our NEBOSH Career Progression Pathways PDF.
NEBOSH International Diploma entry requirements
---
You should already have a fundamental understanding of health and safety issues, such as risk management, hazard control, accident investigation, and international regulation.
We always recommend taking a foundation-level qualification like the NEBOSH General Certificate or SAMTRAC, or having at least 5 years' work experience before taking the course.
What's covered in the NEBOSH International Diploma?
---
The NEBOSH International Diploma teaches health and safety management at senior-level. It's based on best practices and international regulation, such as the International Labour Organisations (ILO) codes of practice.
The course has three units:
Unit ID1: Workplace Health and Safety Principles
Unit ID2: Controlling Workplace Health Issues
Unit ID3: Controlling Workplace Safety Issues
Read the full NEBOSH International Diploma syllabus.
NEBOSH International Diploma Learning Outcomes
---
The NEBOSH Diploma is designed to raise your competence across all areas of health and safety. By the end of the course, you'll be able to:
Source, develop, evaluate and interpret relevant health and safety information and communicate it effectively to those who need it.
Promote a positive health and safety culture by changing attitudes and engaging, supporting, and influencing leaders.
Assess, develop and maintain individual and organisational health and safety competence.
Understand risk management, including the techniques for identifying hazards, risk assessment, control measures, and developing a risk management strategy.
Develop and implement proactive and reactive health and safety monitoring systems and carry out reviews and auditing of such systems.
Continually develop your professional skills and ethics to actively influence improvements in health and safety.
Develop a health and safety policy strategy within your organisation (including proactive safety, Corporate Social Responsibility, and change management).
Contribute to health and safety legal actions.
Manage contractors and supply chains to ensure compliance with health and safety standards.
Advise your organisation on a range of common workplace health and safety issues/hazards.
---
---
How is the NEBOSH International Diploma assessed?
---
The NEBOSH Diploma takes a practical approach to learning and is assessed entirely through practical work and scenario-based questions.
ID1 is assessed with a practical assignment split into 4 sections:
Scenario based questions
Work based activities
Reflective statements
A short research project
Units ID2 and ID3 are assessed with case studies and scenario based questions.
You will have 4-6 weeks to complete your assessments and submit your work to the NEBOSH online portal. You should spend around 60 hours on your ID1 assignment and 40 hours on your ID2 and ID3 assignments.
---
Download course guide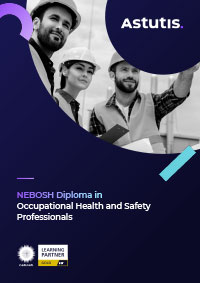 ---
Is the NEBOSH Diploma recognised in South Africa?
---
Absolutely! The NEBOSH Diploma is listed as an essential qualification for senior health and safety roles all across South Africa. It meets the academic requirements for Graduate Membership of the South African Institute of Occupational Safety and Health (SAIOSH).
The qualification is also recognised by other global professional membership bodies including:
The Institute of Occupational Safety and Health (IOSH)
The International Institute of Risk Management (IIRM)
Board of Canadian Registered Safety Professionals (BCRSP)
The Board of Certified Safety Professionals (BCSP)
What's the difference between the NEBOSH International Diploma and NEBOSH National Diploma?
---
Both versions of the NEBOSH Diploma offer an advanced look into health and safety management. They follow the same syllabus and have the same exams.
The main difference between the two courses is the regulation and legislation. The NEBOSH National Diploma is based on UK legislation, so it's great for anyone working inside the UK.
The NEBOSH International Diploma takes a risk management approach based on best practices and ILO codes of practice. Local laws and cultural factors are also included. It's perfect for anyone working outside the UK or in a multinational organisation.
How to study for the NEBOSH International Diploma
---
Astutis offers the NEBOSH International Diploma in the following learning methods:
Virtual – The Virtual Classroom is our most exclusive offering. An exciting mixpot of the classroom and virtual learning to from the most flexible and learner centric learning format to date.

Online learning - Our most popular format gifts learners the control to learn and study on their devices when and where they wish. Learners will have access to the Astutis TrackSmart and ExamSmart platforms to ensure their learning stays on track.

Distance learning - Our most preferred format for independent learners. If you prefer having complete control over your training, this format is for you! Learners will have access to downloadable course notes and will have the authority to learn on their terms.