News
The place to stay-up-to-date with industry developments as well as behind-the-scenes happenings at Astutis.
Due to the developing situation with the COVID-19 outbreak, we have cancelled all public classroom courses effective 18 March 2020 until 17 April 2020, and are transitioning our learners to alternative online options
The Safety & Health Expo 2020 and its co-located events, which were originally scheduled to be staged in May 2020, will now be held at ExCeL London on 8–10 September 2020.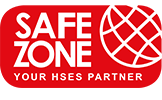 The team at Astutis are thrilled to announce the launch of an exciting new partnership with Egyptian based HSES experts, Safe Zone.
Astutis has been awarded Gold Learning Partner Status from NEBOSH - the world's leading accreditation body for the health and safety industry. The prestigious status means that Astutis has exceeded in 6 learning excellence categories and is recognises as one of the top providers of NEBOSH training around the world.
Astutis is looking forward to demonstrating its range of international online learning courses and consultancy services at two major upcoming exhibitions.
We're thrilled to announce the expansion of our Middle East office. With a new office and team member, we're now able to offer even more health and safety training and support services to businesses and individuals across the region.
Astutis and NCC Training Solutions (Pty) Ltd confirm partnership to enhance the provision of online health, safety and environmental training across South Africa.
TüV Nord's safety seminar in Abu Dhabi covers "How Innovation can Redefine Health and Safety Concerns". Our Learning Experience Manager speaks on the current trends and future developments in occupational health and safety training. Read more on how companies can benefit from diverse learning methods.
Astutis Middle East is pleased to announce a new partnership with ENTEC, an award winning environmental consulting and training company based in Jeddah, KSA.
Two of the GCC's (Gulf Corporation Council) leading providers of training services, Astutis and TüV Middle East (Member of TÜV NORD Group) have agreed a partnership to increase the regions access to high quality, accredited online safety training.
Find out how we can help your company
Other learning options
Meet the Team
What Makes Us Different?
Working in Partnership
Course Delivery Options
Case Studies